Disk Metrology:1500-D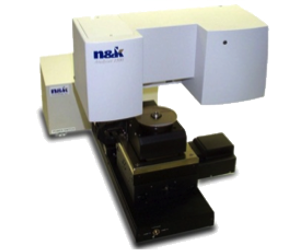 n&k Gemini
DUV-Vis-NIR (Wavelength Range: 190nm – 1000nm) Thin Film Only
Metrology System for Magnetic Disks
The n&k 1500-D
The n&k 1500-D measures unpolarized reflectance (R) to determine
the optical properties (n and k) from 190nm – 1000nm, and thickness-
es of thin films, in particular diamond-like carbon (DLC) and magnetic
layers, comprising hard disks. This manual load system with auto-
mated stage has an extremely low CoO, and is designed to handle all
sizes of hard disks. With a 1mm spot size, the raw reflectance data is
acquired over a wide wavelength range (190nm – 1000nm) with opti-
mized signal-to-noise ratio. The n&k 1500-D is capable of accurately
measuring thickness, as well as Hydrogen and Nitrogen content of in-
creasingly thinner DLC, independent of any variations in the magnetic
layers.
Please note that any of the films measured with the 2000 or 1500 can
also be measured by the 2000 Series. Furthermore, the Recipe Gen-
eration Wizard is offered as an option with the 1500-D. The Wizard allows the user to characterize "unknown" films, and add them to the system's library, with little or no advance information regarding the film properties.
The table below presents disk size and sample handling information
for the 1500-D
Model
Disk Size:
Inner Diameter
Sample Handling
1500-D
7mm
12mm
20mm
25mm
Manual Load with Automated X-
Y Stage Designed to Hold
Magnetic Disks
Below are some of the basic measurements for magnetic disks
achieved by the 1500-D:
Thickness and n and k Spectra, from 190nm – 1000nm, of:

- Ultra-Thin (20-50Å) Diamond-like Carbon (DLC)
Overcoat, Independent of Any Variations of the Mag Layers
- Ultra-Thin (5-10Å) Polymer Lubrication Overcoat
- Ultra-Thin (~5Å) Chrome Cap Layer
- Grain Layer
- AlOx/NiFe-Substrate
- SiC/ NiFe-Substrate
- Resist/BARC/NiFe

%H and %N in DLC
Uniformity Maps of the Parameters of Interest