1500-RT Series:1500-RT and 1280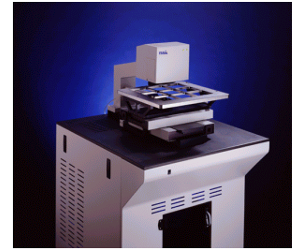 n&k 1500-RT
General Overview
DUV-Vis-NIR (Wavelength Range: 190nm – 1000nm) Thin Film Only Metrology Systems for Unpatterned Films Deposited on Transparent or Opaque Substrates
The n&k 1500-RT and n&k 1280 are designed for measurements of unpatterned films on transparent or opaque substrates. These tools are based on unpolarized Reflectance (R) and unpolarized Transmittance (T) measurements, from 190nm – 1000nm, with a 1mm spotsize for both R and T. With the 1500-RT, R and T are simultaneously measured. However with the 1280, R and T are measured separately. Both tools are capable of determining film thickness and n and k spectra from 190nm – 1000nm for unpatterned films.
The 1500-RT and 1280 have the same analytical capabilities as the Gemini-TF Series, but for measurements of unpatterned films only, and are used extensively for measurements of blanket films of OLEDs, Solar Cells and photomasks, as well as for R&D.
Both these tools are manual load systems; however the 1500-RT utilizes an automated x-y stage to provide uniformity maps of parameters of interest (e.g. thickness, or n and k at a particular wavelength) while the 1280 does not. The 1280 comes with a universal sample holder that can accommodate samples of any kind, including wafers, disks, or coupons as small as 2mm X 2mm. The 1280 has no moving parts, and is practically maintenance free. With its ease of use, robustness and accurate results, the 1280 will provide a tremendous return on investment.
Solar Cells
n, k, and thickness of Nitride layers deposited on Si substrates with various degrees of surface roughness

- The tools of the Gemini-TF series have the sensitivity to measure films on extremely rough Si substrates with less than a couple of tenths of a percent reflectance (<0.15% based of 0-100% scale)

Determination of a roughness "figure of merit" for various degrees of roughness of Silicon substrates
Determination of Eg (Energy Band Gap)
Rapid Determination of thickness uniformity
Degree of crystallinity of silicon films
Determination of n, k, thickness, and Eg, of CIGS layers Determination of inhomogeneous films in CIGS solar stack such as CdS
Films Comprising p-i-n Junction Solar Cell Stack
Simultaneous determination of n, k, and thickness of Transparent Conductive Oxides (TCOs) on a transparent substrate
Degree of conductivity of transparent conductive oxides (TCOs)
Flat Panel Displays
Thin Films on Glass Substrate

- c-Si, Poly-Si, a-Si, SiO2, SiN, Mo, Ag,
ITO, ATO, Organic Polymers

Color Filters

- Primary, Secondary colors, multiple stacks

All films in an LCOS stack, e.g.:

- ARC/SiO2/ITO/ Polyimide/AIR/Polyimide/SiN/SiO2/Al/Si-Substrate
- Empty Cell Gap Measurement for LCOS

Encapsulated Thin Films between Top and Bottom Glass of OLEDs

- ITO Anode Laye
- Polymer Buffer Layer
- Polymer Light Emitting Layer
- Al Cathode Layer
Photomasks
Measurements of a large range of thin film structures to cover current and future applications of photomasks
Measurement of Absorber, Buffer, Cap, plus Super-Structure (alternating Mo/a-Si) layers of EUV masks
Film Thickness and n and k spectra (190nm – 1000nm) of all the layers of phase shift masks including Resist, ARC, CrOx, Cr, CrN, ArF, KrF, MoSi.
Ability to create analysis models of film stacks with 100 layers or more
Ability to characterize complex materials from a multilayer film stack
Thickness measurement sensitivity for layers <5nm
Phase-shift of phase shift masks
1500-RT Series
The table below presents the differences between the 1500-RT and 1280:
Model
Sample Size
Sample Handling
1500-RT
Up to 300mm x 300mm
Manual load with Automated X-Y
Stage
1280
Various Sizes of
samples, down the
coupons as small as
2mm x 2mm
Manual Load,
No Automated X-Y Stage
R and T Measured Separately