2000 Series:2000, 1500, 1200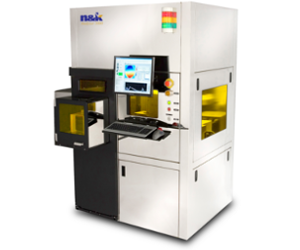 n&k 2000
OVERVIEW
DUV-Vis-NIR (Wavelength Range: 190nm – 1000nm) Thin Film
Metrology Systems for Unpatterned Wafers:
The n&k 2000, n&k 1500 and n&k 1200 are DUV-Vis-NIR thin film only metrology systems, based on unpolarized Reflectance (R) covering wavelengths from 190nm to 1000nm, each with a 1 mm spot size and are capable of determining thickness, n and k spectra from 190nm-1000nm of thin films of unpatterned wafers. All the thin film measurement applications that are possible with the tools belonging to the TF Series, such as the OptiPrime-TF, the OptiPrime-TF-M, and the LittleFoot-TF, are also possible with the tools of the 2000 Series, as long as the films are on unpatterned wafers. Plus, with the Recipe Generation Wizard (offered as an option with the 2000 Series), the user will have the capability to characterize "unknown" films and add them to the system's library, with little or no advance information regarding the film properties.
The 1500 and 1200 are manual load systems; however the 1500 system utilizes an automated X-Y stage for thickness uniformity maps, while the 1200 does not. The 1200 comes with a universal sample holder that can accommodate wafers, disks, or coupons as small as 2mm X 2mm. The 1200 has no moving parts, and is practically maintenance free, making it suitable for all types of R&D. With its ease of use, robustness and accurate results, the 1200 provides significant gains in productivity while keeping costs to a minimum.
The table below presents the differences between the 2000, 1500 and 1200:
Model
Sample Size
Wafer Handling
2000
300mm, 200mm, 150mm
Fully Automated
1500
300mm, 200mm, 150mm
Manual load with
Automated X-Y Stage
1200
Any Size Wafers, Disks or
Coupons as amall as 2mm
X 2mm
Manual load-
No Automated X-Y Stage
CAPABILITIES
Examples of Blanket Film Applications:
Standard films such as SiOx, SiNx, Poly-Si, a-Si:H, SiCx,
SiGex, a-C:H, TiNx, AlOx
Polyresists, polymers, polyimides
Thin metal films (less than ~ 800Å in general)

- Al
- CrSi
- Ta
- Ti
- W
- Cu
- Fe
- Au
- Ag

High-k films
Low-k films
Chalcogenide films
SOI
Graphene
Inhomogeneous films
A variety of complex film stacks, including

- Multi-Layer Film Stacks with Inhomogeneous Under-Layer
- Multi-Layer Film Stacks with Unknown Under-Layer

Ultra-Thin Films (down to a few Å)
Ultra-Thin Residual Layers
Films Deposited on Rough Surfaces
Films on Substrates Besides Silicon:

- For example: GaAs, SiC, AlTiC

Films on rough surfaces
Surface and interface roughness of thin films
Energy Band Gap
Compositon (e.g., %Ge in SiGex; %N, %H, %O in SiOxNx:H,
%N in TiNx, etc.)
Crystallinity (e.g., degree of crystallinity of Poly-Si or GST)