opzioni binarie scommessa o investimento opzioni binarie e una truffa LittleFoot Series: LittleFoot-CD
opcje binarne historia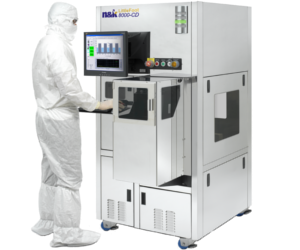 n&k LittleFoot-CD
www iq option com http://dangerhardcoreteam.com/product/dht-goodie-box/"http:\/\/dangerhardcoreteam.com\/product\/dht-virus-bombercoins-set-of-6\/" المقارنة بين وسطاء الفوركس General OverviewGeneral Overview (click here to collapse)

richtig handeln mit binÐ "С"Ð 'С"Ð "'Ð 'В¤ren optionen DUV-Vis-NIR (Wavelength Range: 190nm – 1000nm) Scatterometers/
Thin Film Metrology Systems:

instaforex opciones binarias The n&k LittleFoot-CD Series are DUV-Vis-NIR scatterometers/thin film metrology systems, based on polarized reflectance measurements ( www 24option com отзывы Rs and kosten für binäre optionen Rp) from 190nm to 1000nm, with microspot technology. The systems in the LittleFoot-CD Series determine thickness, n and k spectra from 190nm-1000nm of thin films, as well as depths, CDs, and profiles of trenches and contact holes.

24optional com Due to their ability to measure a large range of OCD and thin film structures that cover current and future applications, the tools belonging to the LittleFoot-CD Series are used extensively for power device and MEMS applications, as well as for the most challenging applications of today's semiconductor industry.

binaire opties zwendel The n&k LittleFoot-CD Series provides tools that are fully automated with approximately 40% reduction in footprint, resulting in a significant savings in the utilization of fab space. This reduction in footprint is achieved through an innovative and patented wafer handling mechanism.The tools belonging to the n&k LittleFoot-CD series are as reliable and fast as any robot-based handling system, but at a much reduced cost.

http://www.studio-asnieres.com/?serimepoke=corredor-de-opciones-binarias corredor de opciones binarias Please note that the optics of the n&k LittleFoot-CD Series are based on n&k's new advance optical design. These tools have the same analytic capabilities as those of the OptiPrime-CD Series.
http://melroth.com/?komp=recensioni-su-autopzionibinarie&18e=91 recensioni su autopzionibinarie Thin FilmThin Film (click here to collapse)
Standard films such as SiOx, SiNx, Poly-Si, a-Si:H, SiCx,
SiGex, a-C:H, TiNx, AlOx
Polyresists, polymers, polyimides
Thin metal films (less than ~ 800Å in general)

– Al
– CrSi
– Ta
– Ti
– W
– Cu
– Fe
– Au
– Ag

High-k films
Low-k films
Chalcogenide films
SOI
Graphene
Inhomogeneous films
A variety of complex film stacks, including

– Multi-Layer Film Stacks with Inhomogeneous Under-Layer
– Multi-Layer Film Stacks with Unknown Under-Layer

Ultra-Thin Films (down to a few Å), e.g., a Monolayer of Graphene
Ultra-Thin Residual Layers
Films Deposited on Rough Surfaces
Films on Substrates Besides Silicon:

– For example: GaAs, SiC, AlTiC

Films on rough surfaces
Surface and interface roughness of thin films
Energy Band Gap
Compositon (e.g., %Ge in SiGex; %N, %H, %O in SiOxNx:H,
%N in TiNx, etc.)
Crystallinity (e.g., degree of crystallinity of Poly-Si or GST)
http://www.okna-vrata.cz/?duwlja=stockpair-app-auf-10-min-zoomen&51d=09 stockpair app auf 10 min zoomen OCD StructuresOCD Structures (click here to collapse)
Small (<100nm) pitch and large (>3μm) pitch trenches and contact
holes structures
Complex 2-D (trenches) and 3-D (contact holes) structures

– Profile
– Sidewall Oxide Thickness
– Underlayer Thicknesses

Etch Monitor for Power Devices at All Steps of the Process

– Si Trench
– Poly Recess
– Contact Trench

FinFET Structures

– Gate Height
– Gate CD
– Fin Height
– Fin Top CD
– Fin Bottom CD
– Oxide Thickness
– Dielectric Top Thickness
– Dielectric Bottom Thickness
– Dielectric Side Wall Thickness

Si Trench with Oxide Cutback
Detection of trench and contact hole issues:

– Collapsed trenches
– Under-etch
– Over Etch
In addition, the tools belonging to the LittleFoot-CD Series measure films associated with OCD structures, including hard masks on trenches and contact holes and films at the bottom or lining of these structures.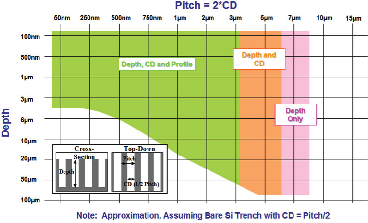 Trench Array Capability Chart for the LittleFoot-CD Series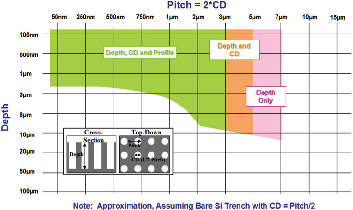 Contact Hole Array Capability Chart for the LittleFoot-CD Series