Gemini Series:Gemini and Gemini-M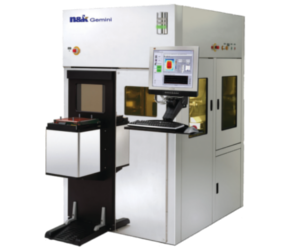 n&k Gemini
DUV-Vis-NIR (Wavelength Range: 190nm – 1000nm) Scatterometers/
Thin Film Metrology Systems for Transparent and Opaque Substrates,
Designed for Conventional and EUV Photomasks
The n&k Gemini and Gemini-M are specifically designed for measurements of Conventional and EUV photomasks. These tools are based on polarized Reflectance (Rs and Rp) and polarized Transmittance (Ts and Tp) measurements, with a 50μm spot size for Rs, Rp, Ts, Tp. Polarized Reflectance and Polarized Transmittance are simultaneously measured to determine film thickness and n and k spectra from 190nm – 1000nm, as well as depth, CD and Profile of trenches and contact holes of Conventional and EUV photomasks.
The Gemini Series is our "next-generation" DUV-Vis-NIR Scatterometer/Thin Film series for photomasks. This series was launched in 2011, superseding the previous generation 5700-CDRT and 1700-CDRT. Advancements in the optical design of the Gemini Series provide a 50μm spot size for Ts and Tp in comparison to the 200μm spot size of previous generations.
The tools belonging to the Gemini Series provide the ability to measure a large range of OCD and Thin Film structures that cover current and future photomask applications
The table below presents the differences between the tools in the Gemini Series:
Model
Mask Handling
Clean Room
Compatibility
Gemini
Fully Automated With optional
automated flipper for backside
measurements
Class 1 Clean Room
Compatible
Gemini-M
Manual load with Automated
X-Y Stage
No
The Gemini and Gemini-M provide the following measurement capabilities for photomasks:
OCD
Measurements of Depths, CDs and Profiles of 2D (trenches) and 3D (holes) structures of Conventional, EUV and Multi-Patterning ArF
Photomasks
Ability to create analysis models for complex OCD structures
Ability to measure trenches and holes with extremely small pitches (less than 30nm) and depths (less than 40nm) etched in quartz
Quartz etch depth with Cr hard mask
Through pellicle measurements
Measurement of corner rounding of holes
Correlation of Transmittance to CD for accurate and fast
determination of CDs in production
Highly accurate and repeatable results
Thin Film
Measurements of all the layers of EUV masks, including:

- Absorber Layer
- Buffer Layer
- Cap Layer
- Super-Structure (alternating Mo/a-Si) Layers

Ability to create analysis models of film stacks with 100 layers
or more
Ability to characterize complex materials from a multilayer film stack
Thickness measurement sensitivity for layers <5nm
Film Thickness and n and k spectra (190nm – 1000nm) of all the
layers of phase shift masks including:

- Resist
- ARC
- CrOx
- Cr
- CrN
- ArF
- KrF
- MoSi

Measurements of films that are on or lining OCD structures of masks
Phase-shift of phase shift masks
Offered as an option with the tools belonging to the Gemini Series is the Recipe Generation Wizard that provides the user with the capability to characterize "unknown" films, and add them to the system's library, with little or no advance information regarding the
film properties.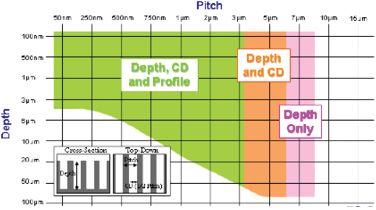 Trench Array Capability Chart for the Gemini Series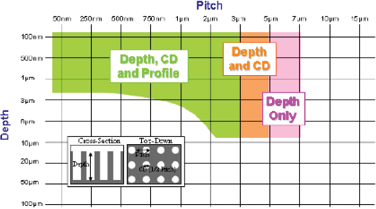 Contact Hole Array Capability Chart for the Gemini Series