TF Series:OptiPrime-TF, OptiPrime-TF-M,
LittleFoot-TF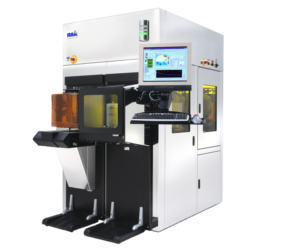 n&k OptiPrime-TF
DUV-Vis-NIR (Wavelength Range: 190nm – 1000nm) Thin Film Metrology Systems for Patterned and Unpatterned Wafers:
The n&k OptiPrime-TF, OptiPrime-TF-M and n&k LittleFoot-TF are DUV-Vis-NIR thin film only metrology systems, based on unpolarized Reflectance (R) measurements from 190nm to 1000nm with microspot technology. These tools measure thickness and n and k spectra from 190nm – 1000nm of thin films on patterned and unpatterned wafers.
Analogous to their scatterometer counterparts, the OptiPrime-TF, OptiPrime-TF-M and LittleFoot-TF are our "next-generation" DUV-Vis-NIR thin film series, launched in 2012, superseding the previous generation, 7000, 3000, and 1700 Series, respectively. Advancements in the optical design of the OptiPrime-TF Series provide a smaller micro spot over the previous generation.
The n&k LittleFoot-TF is a fully automated system, with approximately 40% reduction in footprint, resulting in a significant savings in the utilization of fab space. This reduction in footprint is achieved through an innovative and patented wafer handling mechanism. The n&k Little-Foot-TF is as reliable and fast as any robot-based handing system, but at a much reduced cost.
The table below presents the differences between the tools mentioned above:
Model
Wafer Size
Wafer Handling
OptiPrime-TF
300mm, 200mm,
150mm
Fully Automated
OptiPrime-TF-
M
300mm, 200mm,
150mm
Manual Load with Automated X-
Y Stage
LittleFoot-TF
200mm, 150mm
Fully Automated with unique
wafer handling mechanism that
reduces the footprint
Below are examples of measurements achieved by the OptiPrime-TF Series and Littlefoot-TF for both patterned and blanket films:
Standard films such as SiOx, SiNx, Poly-Si, a-Si:H, SiCx,
SiGex, a-C:H, TiNx, AlOx
Polyresists, polymers, polyimides
Thin metal films (less than ~ 800Å in general)

- Al
- CrSi
- Ta
- Ti
- W
- Cu
- Fe
- Au
- Ag

High-k films
Low-k films
Chalcogenide films
SOI
Graphene
Inhomogeneous films
A variety of complex film stacks, including

- Multi-Layer Film Stacks with Inhomogeneous Under-Layer
- Multi-Layer Film Stacks with Unknown Under-Layer
- Ultra-Thin Films (down to a few Å), e.g., a Monolayer of Graphene

Ultra-Thin Residual Layers
Films Deposited on Rough Surfaces
Films on Substrates Besides Silicon:

- For example: GaAs, SiC, AlTiC

Films on rough surfaces
Surface and interface roughness of thin films
Energy Band Gap
Compositon (e.g., %Ge in SiGex; %N, %H, %O in SiOxNx:H,
%N in TiNx, etc.)
Crystallinity (e.g., degree of crystallinity of Poly-Si or GST)
The Recipe Generation Wizard is offered as an option with the OptiPrime-TF Series and LittleFoot-TF to provide the user with the capability to characterize "unknown" films, and add them to the system's library, with little or no advance information regarding the film properties.